To discover serendipitous connections, inspirational moments and lasting experiences.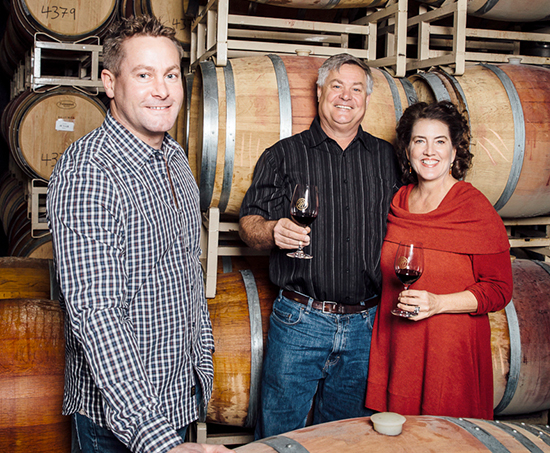 The area surrounding Maryhill Winery is steeped in rich history – from the Great Missoula floods which created a terroir perfect for growing grapes through its deep, relatively low nutrient and well drained deposits to the entrepreneurial spirit of millionaire attorney and road pioneer, Sam Hill who sought to create an independent farming community named after his wife, Mary, and in turn, built what is now the home to a world-class cultural institution known as the Maryhill Museum of Art.
Nearly a century after Sam Hill founded the Maryhill community, in 1999 Craig and Vicki channeled the same entrepreneurial spirit and set out to fulfill their dream of producing premier Washington wines. With their vision became Maryhill Winery, a true destination winery.
Originally hailing from Spokane, Washington, Craig, a business graduate from Washington State University, and Vicki, who was born into an entrepreneurial family, saw great potential for a winery in the Columbia River Gorge.
In 2000, the Leutholds began construction on their winery production facility and tasting room just west of Maryhill Museum on a bluff overlooking Gunkel Vineyard, one of the state's oldest and most established vineyard sites. The Gunkel family has successfully farmed the fertile lands surrounding Maryhill for three generations, growing world-class wine grapes used by the Leutholds and many other Washington state wine producers today.

In 1999, Craig and Vicki Leuthold established Maryhill Winery and set out to produce premier wines in the Columbia River Gorge.
On Memorial Day weekend in 2001, we opened our doors and are now known for a diverse portfolio of exceptional quality and affordable wines, as well as the stunning landscape, live music all summer long and tournament-quality bocce courts available to our guests.
Today, Maryhill is one of Washington state's largest and most-visited wineries. The winery draws more than 75,000 guests to Maryhill annually, while the region offers warm summer days, year-round appeal and excellent winemaking and continues to gain recognition as an emerging wine destination. Responding to growing demand for our wine in the Spokane-Coeur d'Alene metro region and Vancouver, we offer two additional satellite tasting rooms with the same world-class experiences, with our sights on a fourth location in Woodinville, Washington, in the Seattle area.
"With the expansion of our tasting rooms into other key markets in Washington and the Portland-Vancouver metro, we are focused more than ever on making our high-quality, approachable wines accessible to more people," says Craig Leuthold, co-owner of Maryhill Winery. "This is a big step for us, but one we have been planning for the past year. We're excited to bring our immersive tasting room experience to more customers across the state.
Visiting Maryhill is an experience. Whether you visit our flagship winery in Goldendale, or our urban satellite tasting rooms in Spokane or Vancouver, you'll find beautiful scenery, frequent live music and special events, food menus featuring small plates and charcuterie, and an expansive selection of award-winning wines."
Maryhill Winery has been honored with more than 3,000 awards since its first vintage in 2001, including being named 2015 Pacific Northwest Winery of the Year by Wine Press Northwest and the 2014 Winery of the Year at the San Francisco International Wine Competition. Winemaker Richard Batchelor has twice earned the Winemaker of the Year award at the Indy International Wine Competition, including in 2013 and 2018.
For nearly 20 years we have crafted wine with passion, patience and balance. We're proud to continue that story.