Maryhill now open in Woodinville's historic Hollywood Schoolhouse.
Maryhill has opened its third satellite tasting room in Woodinville, Washington. Located just 30 minutes northeast of Seattle, Woodinville Wine Country is home to more than 100 wineries and tasting rooms representing every appellation in Washington. Maryhill Winery will occupy nearly 10,000 square feet of Woodinville's historic Hollywood Schoolhouse, a beloved landmark since its construction by the Derby School District in 1912. The building has been everything from a school to a dance hall to a roller-skating rink. The Hollywood Schoolhouse has been restored to its turn-of-the century style, down to the grand ballroom's hardwood floors, antique bar and brick fireplace.
Maryhill occupies the grand ballroom and upper floor, along with a full commercial kitchen. Maryhill offers special events and rentals. Visitors are able to enjoy Maryhill's wide selection of Washington wines from both inside the lovingly restored building and outside among the beautiful gardens and outdoor balconies.
"We are looking forward to becoming the new stewards of this iconic landmark," says Leuthold. "The Hollywood Schoolhouse, like Maryhill, is a family-owned business with deep roots in the community. And the location is just as breathtaking as our other Washington tasting rooms. It's the ideal venue for reaching a new audience of wine lovers in the Seattle area."
COVID UPDATE: As of March 12, 2022 the CDC and Washington State of removed the indoor mask mandate. Masks and vaccine status will not be required to attend.
DONATION REQUESTS: To submit a donation request click here, all donation requests must be submitted online.
TASTING CERTIFICATES: If you received or purchased a Tasting Certificate from an auction or organization you must schedule the tasting at least 30 days prior to your planned visit, these may be limited based on seasonal availability and holidays. To schedule your tasting experience please email info@maryhillwinery.com.
Visit Us
Hollywood Schoolhouse
14810 NE 145th St # A,
Woodinville, WA 98072
(425) 481-7925
Our tasting rooms do not take or require reservations and operate on a first come first served basis.
Our Hours
Sun 12:00pm-7:00pm
Mon-Sat 12:00pm-8:00pm
The last call for food and wine tasting orders takes place 45 minutes prior to closing.
Special Hours
Thanksgiving Day (closed)
Christmas Eve (open 12pm-4pm)
Christmas Day (closed)
New Year's Eve (open 12pm-4pm)
New Year's Day (closed)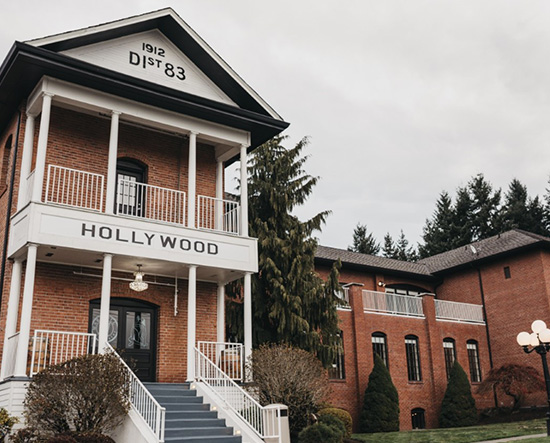 Tasting Room
$25 BAR TASTING FEE
waived with $30 bottled wine purchase, shared tasting permitted
$35 SEATED TASTING FEE
waived with $40 bottled wine purchase, shared tasting not permitted.
Tasting fees waived (up to 4) with Premium club sign-up, (up to 2) waived with Selection of Maryhill sign-up.
The tasting room offers visitors high-quality, affordable wines on the expansive ballroom floor. From the bar, our knowledgeable and friendly tasting room staff offer a mixed flight of our classic and reserve wines.

Premium Club Room
Our Woodinville Tasting Room's Premium Club Lounge is reserved for Premium Wine Club Members (Members can bring up to 2 guests).
Maryhill's Club Level occupies the upper floor of the Hollywood Schoolhouse. The Club Room offers a rotating tasting flight from our collection of exceptional library, as well as award-winning small-lot and limited-production wines.

Washington Wine Country
It's official: Washington is now the second largest wine producer in the country, and Woodinville is where it pours. With over 800 winemakers in the state, over 100 wineries in Woodinville, and more 90+ rated vintages than any wine region in the world, this is where palates of every persuasion come to play.

Live Music
Seasonally live music on select dates at our tasting room by some of the best performers in the Pacific Northwest. Please check our social media for scheduled music & events.

Small Plates To Pair With Wine
At Maryhill we offer a quality menu to enhance your wine tasting experience. With charcuterie boards, seafood offerings, salads, and other shareable plates, our food is made to order, often including ingredients from local partners such as Grand Central Bakery and Olympia Provisions. *Menu subject to changes.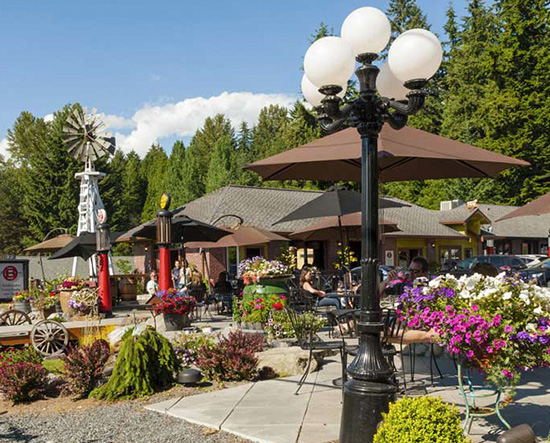 Woodinville's Hollywood District
Whether you are planning a day trip or a weekend getaway, we invite you to explore and experience all that Woodinville Wine Country has to offer. Woodinville's Hollywood District is a short 5-minute drive from downtown Woodinville. The perfect blend of wine, dine, outdoor patios, and breathtaking scenic valley views. It's a spot you can spend all day tasting and exploring within a single block. Click here to learn more.