An immersive tasting experience in Vancouver's redeveloped waterfront district.
In 2019, Maryhill launched a new tasting room in Vancouver, Washington, in the city's highly anticipated redeveloped waterfront district, The Waterfront Vancouver, USA. Visitors can enjoy a 7.3-acre mixed-use development that has quickly become a destination, providing Maryhill a great opportunity to better serve our fans and wine club members in the Portland-Vancouver area, and help others discover our wide variety of Washington wines.
COVID UPDATE: As of March 12, 2022 the CDC and Washington State of removed the indoor mask mandate. Masks and vaccine status will not be required to attend.
DONATION REQUESTS: To submit a donation request click here, all donation requests must be submitted online.
TASTING CERTIFICATES: If you received or purchased a Tasting Certificate from an auction or organization you must schedule the tasting at least 30 days prior to your planned visit, these may be limited based on seasonal availability and holidays. To schedule your tasting experience please email info@maryhillwinery.com.
---
Visit Us
801 Waterfront Way, Suite 105
Vancouver, WA 98660
(360) 450-6211
Our tasting rooms do not take or require reservations and operate on a first come first served basis.
Our Hours
OPEN DAILY
Mon 12:00pm-8:00pm
Tues-Thurs 12:00pm-9:00pm
Fri & Sat 11:00am-10:00pm
​Sun 11:00am-8:00pm
Patio seating is dependent on the weather. Please contact the tasting room directly for patio seating status.
The last call for new food and wine tasting orders takes place 45 minutes prior to closing.
Special Holiday Hours
Thanksgiving Day (closed)
Christmas Eve (open 11pm-4pm)
Christmas Day (closed)
New Year's Eve (open 11pm-4pm)
New Year's Day (closed)
---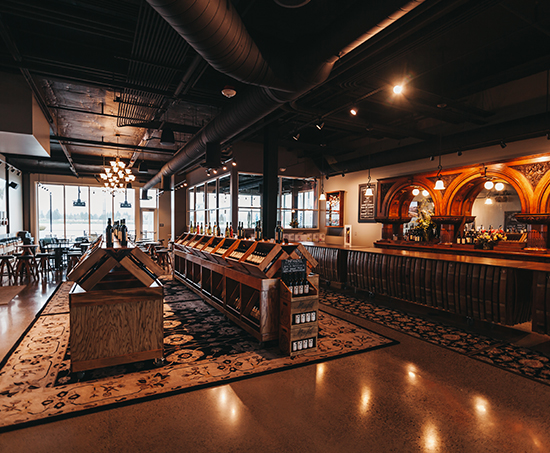 Tasting Room
$25 BAR TASTING FEE
waived with $30 bottled wine purchase, shared tasting permitted
$35 SEATED TASTING FEE
waived with $40 bottled wine purchase, shared tasting not permitted.
Tasting fees waived for all members, or (up to 4) with Premium club sign-up, (up to 2) waived with Selection of Maryhill sign-up.
Located on the shores of the Columbia River just downstream of our flagship tasting room in Goldendale, Washington, our 4,890 square-foot tasting room offers visitors high-quality, affordable wines and an expansive patio. From the bar, our knowledgeable and friendly tasting room staff offer a mixed flight of our classic and reserve wines.

Premium Club Room

Reserved to Premium Wine Club Members (Members can bring up to 2 guests). Availability may vary please call ahead with any questions. The Club Room is open for members to enjoy but is not staffed for tastings during the week.
Our Club Room offers a rotating tasting flight from our collection of exceptional library, as well as award-winning small-lot and limited-production wines.

The Grant Street Pier

Our tasting room is located near Grant Street Pier, an iconic and interactive public art piece designed by nationally renowned artist Larry Kirkland. The public pier is just steps away from Maryhill's expansive outdoor patio, where patrons enjoy breathtaking views of the Columbia River and Mount Hood.

Small Plates To Pair With Wine

At Maryhill we offer a quality menu to enhance your wine tasting experience. With charcuterie boards, seafood offerings like Dungeness crab rolls, salads, and other small, shareable plates, our food is made to order, often including ingredients from local partners such as Grand Central Bakery and Olympia Provisions. *Menu subject to changes.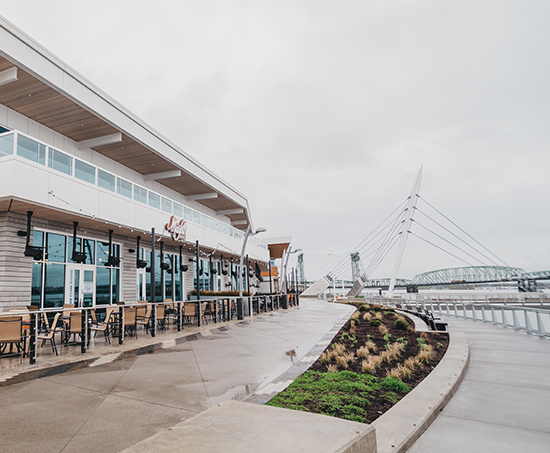 Where The City Meets The River
The Waterfront is a newly created picturesque 1/2 mile waterfront park with expansive sidewalks ideal for strolling, outdoor dining and only minutes from downtown Portland. The Waterfront is a stunning riverfront location at the heart of the metropolitan Vancouver-Portland area. Click here to learn more.