January 2, 2023 | Events & Promotion, Press Releases, Wine Club | Maryhill Marketing
JANUARY Featured CASE SPECIALS & Flat Rate Shipping Promo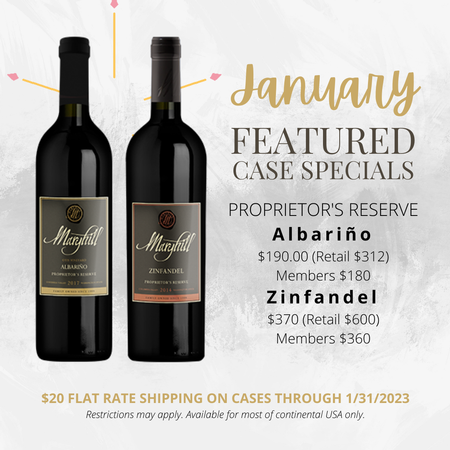 For release 1/2/2023
Two additions to the CASE SPECIAL lineup for the month of JANUARY! Proprietor's Reserve ALBARINO and ZINFANDEL at exceptional case pricing! All wine club members receive an additional $10 off. Available online and at tasting room locations, link in bio.

Additional case specials available online and in tasting rooms.

We are also extending flat rate $20 shipping on all CASE ORDERS (12 bottles) to most of the continental USA through 1/31/2023!

FULL 12 COUNT CASES are eligible for flat $20/CASE shipping; with EXCEPTION TO Alaska and Hawaii, these areas are eligible for ½ off standard UPS Ground Shipping. Partial cases will be sent at regular shipping rates. Case specials are included for $20 shipping and no additional discounts.
Shop online, visit /Wines/Special-Offers or at tasting room locations. Case and shipping discounts applied at checkout. Members, a reminder to login to your account prior to checkout for the additional discounts to apply. Orders placed online for pickup at a tasting room location please allow at least 24 hours for processing.