July 10, 2022 | Events & Promotion, In The Press, Press Releases, Wine Acclaim | Maryhill Marketing
Maryhill Winery Named "MVP" by 2022 Washington Wine Awards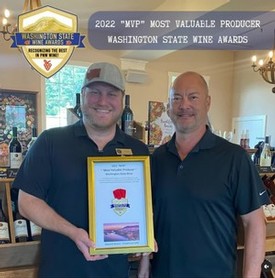 Our Woodinville tasting room had a special visit from Christopher Chan, Executive Director at SEATTLE WINE AWARDS, yesterday to present Maryhill Winery with the 2022 MVP award.
"Most Valuable Producer award given in recognition of 20+ vintages consistently crafting wines with excellence, accolades and appeal, we award Maryhill Winery for their commitment to elevating and celebrating Washington State Wine."
We are honored for the recognition and congratulate our winemaking team and all the hands involved in the production of our wines from vine to bottle.
Cheers to Washington State Wine!