January 18, 2022 | Events & Promotion, Wine Club | Maryhill Marketing
Valentine's Wine Pairing Dinner at the Woodinville Tasting Room & Bistro ❤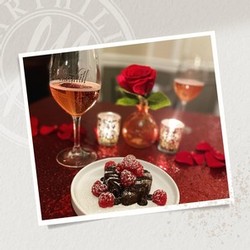 Maryhill Winery Premium Club Members (email subscribers) will recieve the link to purchase tickets via email. If you did not recieve an email please contact the Woodinville Tasting Room & Bistro directly for information.
A five course dining experience.
Celebrate the one you love and join us for an intimate, multi-course dinner at the WOODINVILLE tasting room. Our culinary team has created an extraordinary menu and we will carefully curated Maryhill wine pairings for each course.
Monday, February 14, 2022 6-9PM
Doors open at 6PM for a welcome reception
Guests seated & first course served at 7PM
Tickets include welcome reception glass of wine, five course dinner with wine pairings, and gratuity
Please review the menu below and be prepared to make a choice for each guest for Course Two and Four at checkout
$150 per person, limited to 64 guests, 4 ticket maximum per party and a 21+ event.
Initial ticket release exclusive to Premium Club Members.
Contact: KristynS@maryhillwinery.com or (425) 481-7925
COVID INFO: King County requires that customers and attendees (age 12 years and up) at most indoor restaurants and bars show proof that they are fully vaccinated for COVID-19 before entering. If unvaccinated, patrons may provide proof of a negative COVID-19 test done in the last 72 hours by an FDA-approved test. We continue to practice safe distancing and require masks be worn while in the building unless activly eating or drinking. Please contact us directly if you have further questions.